Former Governor of Imo State, Senator Rochas Okorocha sometime around June 2021 revealed the main reason Igbo leaders are not coming out to speak against Nnamdi Kanu and his reason makes a lot of sense.
He said the reason they could not make bold to criticise him was because they do not want to incur the wrath of their youths.
The former governor disclosed this while filling questions from a BBC Hausa program back then and i totally agree with him
Rochas stated that many of the South East elders are not in support of Nnamdi Kanu and his agenda, but they are only trying to be on the safe side. 
According to him, Igbo leaders are trying to avoid losing their kids if they come out to say their minds. 
And rightly so, with the way IPOB and ESN hoodlums are on the loose in the South East these days, one would want to keep every criticism he or she has in their pockets.
READ ALSO: SHOCKING: Police raid ritualist den in Edo, discovers 20 human bodies dried like stock fish (Photos)
"A lot of people are scared, you say and tomorrow go and get your child killed." he said.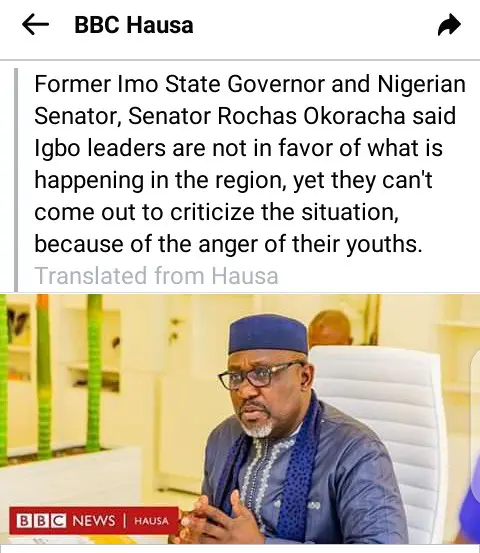 Okorocha also blame lack of employment for being responsible for security challenges in the region.
"Most of the people who do this thing when you look at them you don't say they have a profession, they are not considered as a threat." said the Senator.
Okorocha therefore urged the government to make use of the monarchs to address sectarian tensions in the south-eastern part of the country.
Do you agree with Rochas Okorocha?
Thanks for reading.
Kindly follow us for more news update by liking our Facebook page.