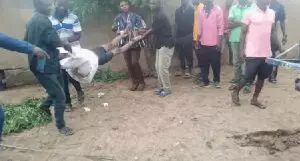 A 27-year-old man has been killed after asking his wife's boyfriend why he was sleeping with his wife. The late Trymore Sibanda was shot in the head at Silobela town in Zimbabwe by his cheating wife's boyfriend, also known as Mtandazo Sibindi.
It was reported that the deceased and his wife were married but had no children. The deceased's wife began sleeping with the suspects four months ago. The woman still chats with the suspects on numerous occasions, but lied to him saying it was a business call. On Monday, the deceased secretly picked up his wife's phone and went through her messages.
READ ALSO: What Are The Penalties For Drug Trafficking In Nigeria?
He discovered in a message on the phone that his wife has been cheating on him with one of their neighbors. Seeing these two people having sex again, he became enraged and approached the woman's boyfriend, but he too became angry and started raining insults on him, which resulted in a fight.
The neighbor pulled out a gun and shot the man dead. According to police reports, the suspect was arrested and held in custody until 8 December for preliminary.