ISWAP releases photos of their up-armoured SVBIED attack near a Nigerian military outpost at Marte, Borno on Teusday January 4, 2022.
The Islamic State West Africa Province (ISWAP), formerly known as Jam'at Ahl as-Sunnah lid-Da'wah wa'l-Jihd, a Boko Haram-affiliated organization, has claimed responsibility for the deaths of 10 Nigerian troops in Borno State.
The troops were murdered after an explosives-laden truck rammed into a military position in Marte, Borno State, along the banks of Lake Chad, according to ISWAP in a post on Wednesday.
The vehicle, a standardized pick-up truck driven by one "Abu Suleiman al-Ansari," is seen approaching the target before exploding in a tremendous blast.
READ ALSO: One Of The Most Wanted ISWAP And Boko Haram Leader, Abou Maryam Executed.
See the moment of the blast in the photos below;
According to @CalibreObscura on Twitter (a renown arms researcher), ISWAP's SVBIED attack was followed by infantry/technical support, using standard AK/PK(M) small arms and an NSV HMG.
Below are more images from the Marte attack:
During the surprise attack on the security installation in Marte, Borno State, the jihadist militants also took multiple weapons, rifles, and ammo as can be seen in the picture below;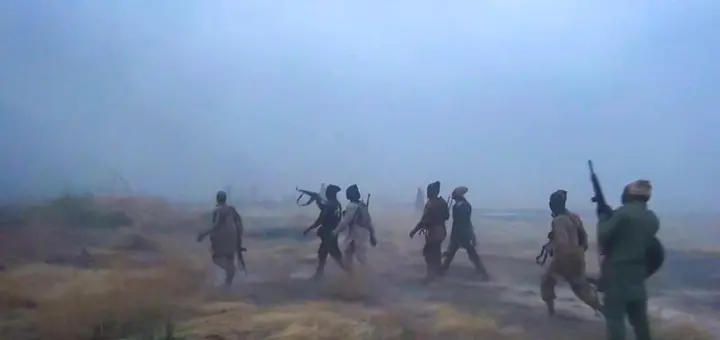 The jihadist group identified as the Islamic State in West African Province (ISWAP) also captured armored vehicles from the attacked security post and allegedly destroyed buildings surrounding the area.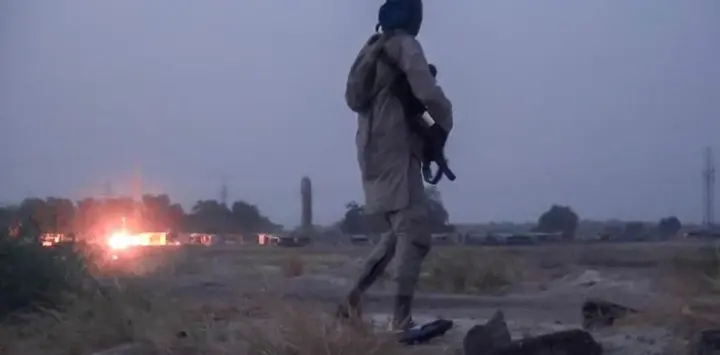 According to ISWAP, ten persons were murdered in the incident, including troops and children.
Many military operating vehicles were also destroyed, according to the terror group.
ISWAP has been consolidating its influence in areas around Lake Chad since the death of JAS commander Abubakar Shekau.
Wali Sani Shuwaram, 45, was recently appointed as the new Leader (Wali) of ISWAP in Lake Chad.
Hundreds of Boko Haram fighters have defected from the late Shekau's faction, increasing iswap's membership.
The Nigerian Army has stated that the insurgency has been mostly defeated on numerous occasions, while downplaying any losses.
The terror group has killed over 100,000 people and displaced millions of people, mostly in the states of Adamawa, Borno, and Yobe.
You can read more on the Marte attack HERE.