Boko Haram Weapon Capabilities.
Some years ago, Boko Haram terrorists released a picture of an improvised rocket launcher and a 4x 9M22U-pattern 122mm "Grad" rockets. The rocket was used to hit Buni-Yadi, a town which is about 56 Kilometres south of Damaturu, Yobe state capital.
The terrorists captioned the photo with an Arabic inscription, which says; "preparation of a launcher (Grad) for targeting a base of the Nigerian Army in the town of (Yadin Buni) in (Yobe) state".
See the photo below;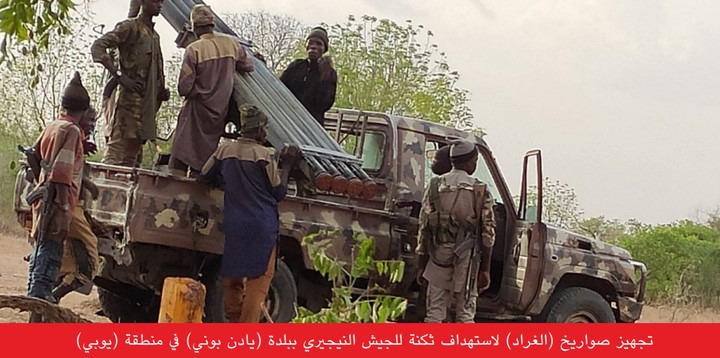 When I saw the above Image on the internet, I kept on asking myself this question; "how were they able to build this type of sophisticated weapon?"
The answer to this questions should not be far fetched. "Boko Haram terrorists have sponsors and a supply chain (People who furnish them with weapons and spare parts)." Aside from the fact that they have sponsors and an active supply chain, they also have people that are technically gifted, as it is only someone with great technical ability that can put together suchthis kind of weighty weapon.
The Way Forward.
As Boko Haram weapon capabilities is improving everyday, the first thing that should be on the minds of authorities is to block their supply chain. We need to block every avenue they use in purchasing weapons and spare parts, and this has to do with our border security. It needs to be tightened.
Tightening our border security will be a plus for the Nigerian Army and other security agents that are innthe war front. This will make it impossible for the dreaded insugency group to get or purchase weapons and spare parts needed to build such weapons.
Nobody wants to face an improvised 4 barrel launcher, not even the best armies in the world.
It is becoming clearer by the day that Boko Haram is being used to destabilise Nigeria by external forces and some willing tools in Nigeria. Building such weapon is not cheap, it requires alot of money and technical knowhows.
This is scary and sad because the same force we are planning to decimate is only getting stronger by the day.
If these terrorists properly deploy this improvised weapon, it could cause catastrophic damage on a largely concentrated Nigerian troops movement.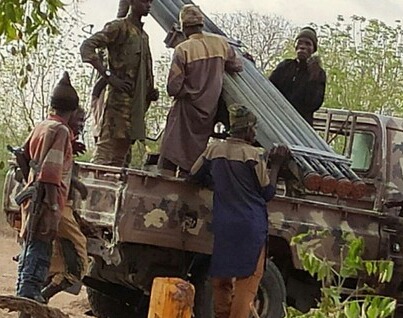 Our intelligence unit should use this picture to trace the location, and let our air reconaisance unit take the criminal elements out.
Let's continue to pray for our troops as they continue to battle these criminal elements.
Please don't forget to comment, like and share. Also visit us on Gallant Military Info for more military updates.