There are several reasons why people consider joining the Nigerian Military. Everyone has their motives, desires and motivation. However, one of the most important reason is one's desire to serve their country, which can also be described as patriotism. Another very common reason why people join the military is for job benefits. There are a lot of benefits attached to the military occupation and we'll discuss some of these benefits in this article.
Either way, each individual has their personal reasons for joining the military but what's important is what you should know before joining the military.
Like I said earlier, there are a lot of benefits attached to the military occupation which includes; the attractive pay, the health care pakages, the educational benefits and the pride that you have when you're defending your motherland.
Also, like there are benefits, there are also challenges that comes with the job. You will spend long hours away from your family and loved ones and you may be placed in harm's way.
In this article, I'll be educating young Nigerians who are considering joining the Nigerian military on some things to keep in mind before joining the occupation.
1- Before Joining The Nigerian Military, Know The Branches
Before joining the military, you should do a comprehensive research on the various branches of military. In the Nigerian military, we have three branches, namely, the Nigerian Army, the Nigerian Air Force and the Nigerian Navy.
The Nigerian Army is the military branch that oversees all land-based military operations in the country. While the Nigerian Navy are solely responsible for sea-based military operations. The Nigerian Air Force like the name implies controls all air-based military operations.
Despite the fact that each branch of the military have their individual responsibilities, there can also be an overlap of responsibilities. For instance, we have the Nigerian Air Force Special forces unit who also performs land-based operations. There are many more examples such as this in the military setup where branches operating outside of their main responsibility.
2 – Your level of commitment.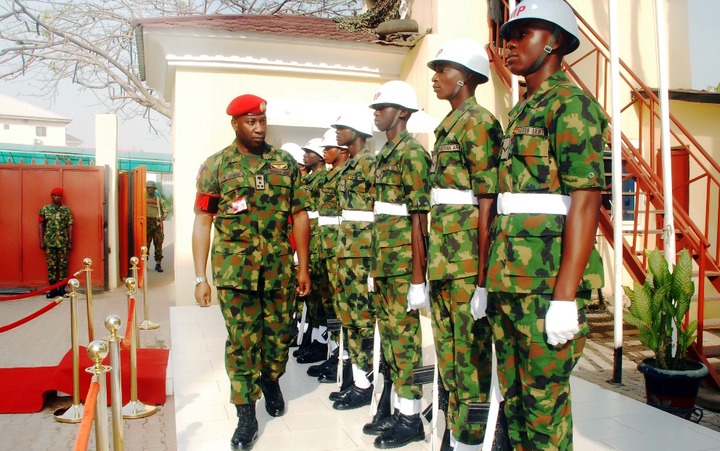 You should know that joining the Nigerian military requires a huge level of commitment. And this should not be taken lightly. Commitment in this context means giving your all to the service. You will have to obey all orders, and possibly kill or be killed. You may be subjected to bad living conditions especially when you're being deployed to war zones. You may be discriminacted against, and may also go through emotional or physical abuses. Your superiors may take a decision that affects you negatively without even telling you. And there are so many more things, "good or bad", that happens in the military and you'll just have to go with the flow because of your commitment.
Joining the Nigerian military is not like joining any other normal jobs. At a normal job, you may work up to 40 hours a week. But when you join the military service you are always on duty. And you have to show in your attitude and character that you are fully committed to the job.
3- You Have To Explore Your Options.
Once you've decided on which branch of the military you wish to join, there's need for you to explore your options. Joining the Nigerian military service is a huge decision therefore you should not have any questions unanswered before making your decision. Do more research about the military on the internet and ask questions from people who are knowledgeable about the military system. This will enable you to make your final decision on the branch of military you intend to stick to. You should Visit the Nigerian Army, Nigerian Air Force and the Nigerian Navy websites to see the requirements and FAQ.
The Nigerian military, has an incredible variety of career fields. We have medical department, mechanic Al department, paralegal department, intelligence and special forces unit, and there's also the air traffic controllers in addition to combat soldiers and many more. It is important to know that not everyone who intends on joining the Nigerian military will be a fighter pilot, or a combat operative. It is a good idea to think about what job you might be interested in as early as possible.
READ ALSO: List Of Airforce Bases In Nigeria And Their Locations
READ ALSO: [Photos] troops rescue seven kidnapped victims including a woman and her 4 children in Kaduna forest
4- Consider the Hardships.
Despite all the benefits that comes with being a military personnel, the job Is not all that fun and adventure. There are also many hardships that you will go through and have to endure. It is very important to think carefully about the hardships before you decide on joining the Nigerian military.
First and foremost, you could get killed, or have to kill someone. The second thing to keep in mind is that you will be open to seeing very bad things, and you could be asked to do really bad things.
Another thing to keep in mind with regards that hardship is that, during the recruitment training or military deployments, you could be very far away from your loved ones for a very long period of time. This can be a really stressful time for you. You will have to go through very difficult and rigorous physical and mental demands. You will be constantly training and expected to meet strict rules and guidelines for both physical fitness and career advancement.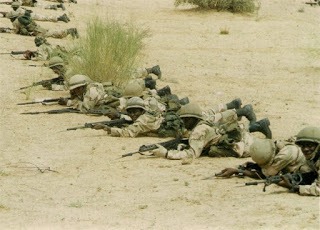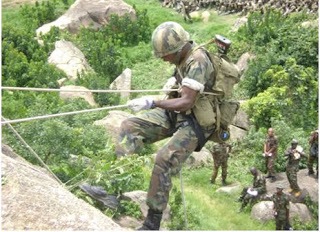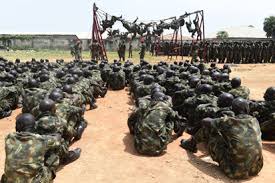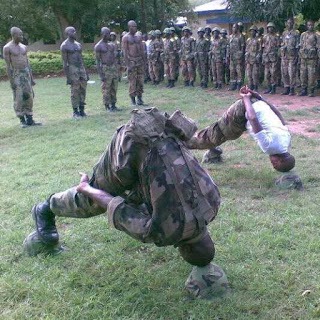 This could be very tough on your body and that's why there's a saying that "joining the military service is not for the faint hearted."
The job can also be very stressful for your loved ones especially when you're being deployed to the frontlines. It tends to make live very hard for them and it could give them sleepless night. I know of a man whose son's military base in the Northeastearn Nigeria was attacked. Immediately the man got information that his son's base was attacked he fainted and died on the way to the hospital. Luckily, his son survived the attack onnyheir base.
Conclusion
To this end, if you plan on joining the Nigerian military or any other military around the world, you should do your research very well. You should also ask questions and get the opinions of your parents, religious leaders, counselors, and even your friends. You have the right to get the facts and information you need to make the best decision for you.
I hope this article has provided you with the basic information about joining the Nigerian military. If you intend to get more info, please do not hesitate to visit the official website of the ministry of defence.
Please don't forget to comment, like and share.
Also visit us for more quality articles on Gallant Military Info.